| | |
| --- | --- |
| | This page contains bugged, unfinished, or unused content, and therefore is subject to speculation and change in the future. |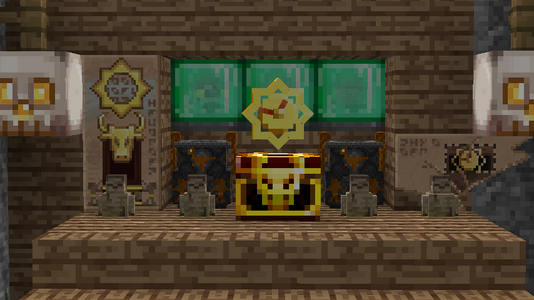 The Time Machine is a currently unusable block that is planned to be used to travel to a new dimension. It is the most expensive thing in the mod, as it requires three of the extremely rare Scarab Gems and a Nether Star which can only be obtained through killing the wither.
Appearance
Edit
The Time-Machine is a short gold plated block with red on its sides and a scarab gem imprint on it. When the Ancient Clock isn't on top of it, it just has a hole in the middle, but if the Clock is put on it, then it will float atop the Time Machine.
How To Use
Edit
To use the Time Machine, you must first find the Ancient Key by slaying the warlord Anu in his Castle. You must then travel to the The Room and unlock the Ancient Treasure Chest in the hidden room, which will reward you with an Ancient Clock.
You must now put the Ancient Clock in the Time Machine to work it, which will start a timer. When this timer is up, words will pop up on the Time Machine GUI. It will say: "Coming Soon." The Time-Machine currently cannot be used beyond this.
Science

Analyzer ■ Archeology Workbench ■ Bubble Blower ■ Culture Vat ■
Feeder ■ Sifter ■ Time Machine

Paleontology

Amber Ore ( Amber) ■ Ancient Ferns ■ Failuresaurus Trail ■ Fossil
( Bio-Fossil) ( Skull) ■ Iced Stone ■ Permafrost ( Frozen Meat) ■
Tar ( Tar Fossil) ■ Volcanic Ash ■ Volcanic Rock ( Brick) (Stair) (Slab)

Archeology

Amphora ■ Ancient Figurines ■ Ancient Glass ■ Ancient Stone ( Brick) (Stair) (Slab) ■ Ancient Treasure Chest ■ Ancient Wood ( Pillar) (Stair) (Slab)
( Plate) ■ Anu Statue ■ Anubite Statue ■ Drum ■ Kylix ■
Mysterious Sarcophagus ■ Volute

Crafted

Dense Sand ■ Obsidian Spikes ■ Palaeoraphe Plank (Stair) (Slab) ■
Reinforced Glass ■ Skull Lantern

Plants

Bennettitales ■ Cephalotaxus ■ Crataegus ■ Dillhoffia ■ Ephedra ■
Failure Plant ■ Florissantia ■ Foozia ■ Horsetail ■ Lycopodiophyta ■
Osmunda ■ Palaeoraphe Log ( Leaf) ■ Sarracenia ■ Tempskya ■
Vaccinium ■ Welwitschia ■ Zamites