There are only a few Resource Packs of Fossil And Archeology Revival and most of them focuse on retexturing in 32x (resolution used in Resorce Packs such as Faithful). The only exception to that is Raptorfarian 16x Realism pack.
Fossil Archeology 32x32
 by Woolies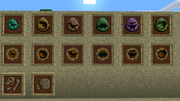 32x32 F/A Mob texture Revival by BlueStreak52 (Not released yet)
32x32 F/A Item and New Block Texture Revival by Cliodna
32x32 Fossil and Archeology Revival The Rest by ZapikCZ
32x32 Mr. Cat's F/A Texture Pack[1] by Mr. Cat
F/A 16x16 realism texture pack by Raptorfarian
Ad blocker interference detected!
Wikia is a free-to-use site that makes money from advertising. We have a modified experience for viewers using ad blockers

Wikia is not accessible if you've made further modifications. Remove the custom ad blocker rule(s) and the page will load as expected.