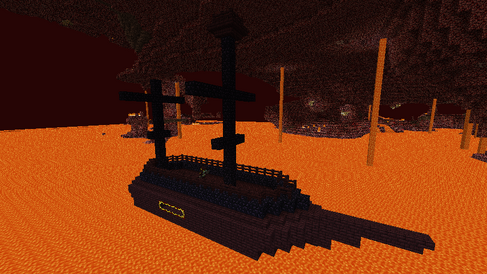 The Hell Boat is a crucial Structure that spawns very frequently in the Nether, on lava. The boat is almost indestructible, as it is mainly made out of nether brick and obsidian. This Structure will lead you to Anu's Castle. It is the first structure by Alexthe666 in the mod.
Appearance
Edit
Surround Anu's Statue with Redstone in a square-shape, then take out the corners of the Redstone and replace them with four Ancient Figurines of any type, which you can rarely find in Fossil Archeology structures. Afterwards a small animation will occur followed by a large and violent explosion. Then, a small portal will spawn where the Anu Statue was, which you can enter to get to Anu's Castle.
Block List
Edit
Netherbrick

Netherbrick Fence
Netherbrick Stairs
Netherbrick Slabs

Obsidian
16 Stone Slabs
7 Chests
4 Furnaces
6 Spider Webs
2 Iron Doors
Iron Bars
1 Jukebox
1 Damaged Anvil
9 Redstone Torch
Ad blocker interference detected!
Wikia is a free-to-use site that makes money from advertising. We have a modified experience for viewers using ad blockers

Wikia is not accessible if you've made further modifications. Remove the custom ad blocker rule(s) and the page will load as expected.