Home
Talk

3
162pages on
this wiki

Also feel free to spread the word, so we can soon be provided with more of this awesomeness!
http://www.minecraftforum.net/forums/mapping-and-modding/minecraft-mods/1288066-fossils-and-archeology-revival-build-7-0-temples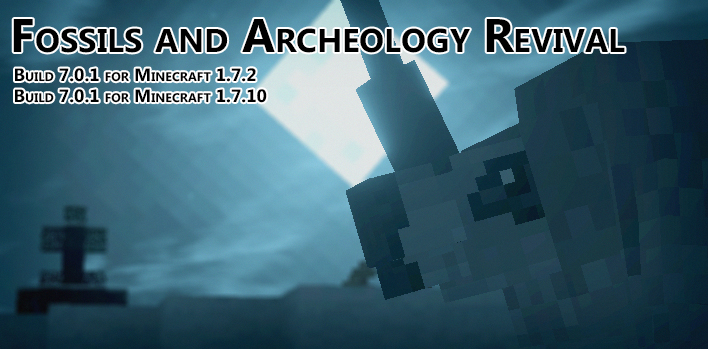 The Fossils and Archeology Revival mod brings extinct creatures to your Minecraft experience. The Revival mod is a continuation of Flammarilva's Fossils and Archeology mod after he could not find the time to work on it anymore.
This mod supports both SSP and SMP using Forge. Bring dinosaurs to life by digging for fossils, extracting DNA from them, and creating dinosaur eggs to hatch! Fill your world with wild dinosaurs, as well as dinosaurs that you can tame and care for. While currently the primary focus is the dinosaurs, the Revival Team plans on expanding the experience with more archeological aspects as well.
You can find the thread and download the mod from the Minecraft forums here.
We are regularly updating the mod. Changelogs are here.
Many maps have been made with the mod. They can be found here!
The page that shows all the server IPs can be found here!
Also here is the page where people can show links to their models that they made for the mod! View Progress On Trello
Issues! Suggestions?
For any issues and suggestions, we have a Github tracker set up here .