Fossilized Seeds & Spores
A fossilized lycopodiophyta spore.
Stack Size
64
Fossilized seeds and spores are fossilized remains of prehistoric plants. They are the plant versions of DNA in all respects. When you put a plant fossil in an analyzer, you have the chance of producing a random species of fossilized seed or spore. When this occurs, the player will get the "Plants from the Past" achievement. The fossilized seed or spore then must be placed in the culture vat in order to convert it into a seed or spore of the same species. If a fossilized seed or spore fails, the culture vat will break, creating a water source block and dropping a Failure Plant along with the contents of the culture vat.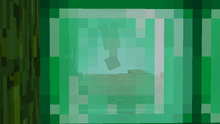 Science

Avian Eggs ■ Non-Avian Eggs ■ DNA ■ Embryo ■ Palaeoraphe Sapling
( Petrified) ■ Seeds & Spores ( Fossilized) ■ Spawn & Sacs

Paleontology

Amber ■ Arm Bone ■ Bio-Fossil ( Tar) ( Plant) ■ Dominican Amber ■
Empty Shell ■ Foot Bone ■ Frozen Meat ■ Leg Bone ■ Magic Conch ■
Skull ■ Rib Cage ■ Unique Bones ■ Tar Bucket ( Drop) ■ Vertebrae

Archeology

Ancient Key ■ Ancient Helmet ( Broken) ■ Ancient Sword ( Broken) ■
Fossil Record ■ Pottery Shard ■ Scarab Gem ( Aquatic) ■ Stone Tablet
( Scrap)

Food

Cooked Egg ■ Essence of Chicken ■ Failuresaurus Flesh ■ Raw Animal Meat
( Cooked) ■ Raw Chicken Soup ( Cooked) ■ Sio-Chiu-Le

Tools

Ancient Clock ■ DinoPedia ■ Javelin ■ Scarab Axe ■ Scarab Hoe ■
Scarab Pickaxe ■ Scarab Shovel ■ Scarab Sword ■ Skull Armor ■
Skull Stick ■ Spawn Eggs ■ Tooth Dagger ■ Whip

Enrichment

Live Coelacanth ( Live Alligator Gar) ( Live Nautilus) ( Live Sturgeon) ■ Toy Ball ■
Tethered Log ■ Scratching Post