Ad blocker interference detected!
Wikia is a free-to-use site that makes money from advertising. We have a modified experience for viewers using ad blockers

Wikia is not accessible if you've made further modifications. Remove the custom ad blocker rule(s) and the page will load as expected.
Community Guidelines
have been updated; be sure to review them before posting!
WELCOME
DOWNLOAD the Fossils and Archeology Revival mod, the key to unlocking an adventure into the depths of your Minecraft world's history!
UNEARTH valuable fossils of prehistoric creatures and beautiful Dominican Amber from the depths of your Minecraft world!
DISCOVER ancient ruins and relics that will lead you to the mysterious Anu, a cruel dictator from an ancient civilization!
DARE to hunt the fiend to the peripheries of the nether to end his barbarous reign!
DEVISE new blocks that will allow you to restore your relics to glory and bring your fossils to life!
RECREATE graceful extinct animals that died out in a time long past!
LIVE in a world where the Past is the past, the present, and the future!
The Fossils and Archeology Revival mod (affectionately known as F/A Revival or simply Revival) is a continuation of the original Fossils and Archeology mod created by Flammarilva. This mod supports both SSP (Survival Single Player) and SMP (Survival Multiplayer) using Forge in Minecraft 1.7.10. The newest version, 7.3.2, is dependent on Llibrary 1.5.0 - 1.7.10 or higher and cannot be played without it.
ACTIVE TEAM MEMBERS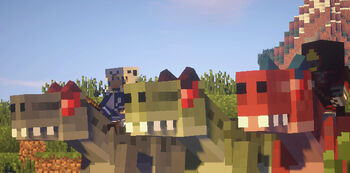 Programmers
Alexthe666, iLexiconn, gegy1000
Texture and Model Artists
tyranno66, Raptorfarian, Bluestreak52
Structure Designers
Robberto08
Audio Artists
Nanotyrano
Documenter
ASDFGirl
IMPORTANT LINKS
HELPFUL PAGES
216 articles since March 10, 2013‎