7.3 UPDATE
Edit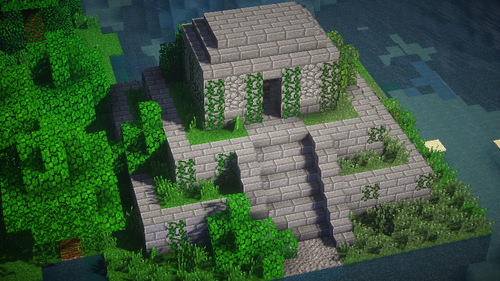 Aztec Weapon Shops are relatively common ancient structures that, like the Temple, are based on the remains of an archaic shop where ancient people would trade for weapons in a Mesoamerican civilization, in this case the Aztecs. Formally re-added in the 7.3 Build, these are minor structures that contain decent materials.
DESCRIPTION
Edit
Weapon shops are found ruined only in jungles biomes. The outside and sometimes the inside are usually overgrown with trees, leaves and grass. You may need to break your way in if the entrance is blocked. The inside of the shop is somewhat small and lit by glowstone, with two chests on either side of the shop containing weapons.
Several blocks below this room is a secret area where the precious items remain. This room may also be overgrown. In the middle of the secret room is an obsidian block on top of an emerald block, and there is a chest in the room that contains more valuable items.
LIST OF BLOCKS
Edit
Stone Brick
Stone Brick Stairs
Stone Brick Slab
Cobblestone
Cobblestone Wall
Glowstone
Cauldron
Gold Block
Obsidian
Emerald Block
Chest

Gold ingot
Coal
Bookshelf
PHOTO GALLERY
Edit